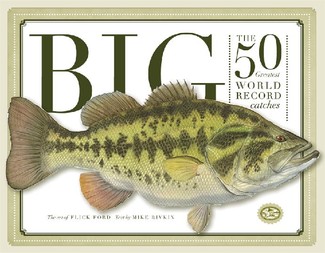 « Back to listing
Plus shipping and CA sales tax (8.75%) if applicable
BIG: The 50 Greatest World Record Catches is, well, big. This gorgeous coffee-table book grew out of a late night conversation between author and IGFA historian Mike Rivkin and noted artist Flick Ford. Rivkin, a salt-water angler, began speculating on the greatest big-game catches of all time, and Flick - a freshwater man - chimed in with his own list of notable bass, salmon, and trout captures. After much debate - and perhaps a few refreshments - the two had hammered out a list and concluded that a book needed to be written to put the matter at rest. So here it is.
In the end, Rivkin's extensive research through the IGFA's archives along with Flick's gifted paintbrush created a book unlike any other. The oversized format provides a generous look at the 50 greatest catches, each with a lively narrative and visuals along with Ford's lushly reproduced painting. The fish range from the modestly-sized smallmouth bass to a giant black marlin weighing more than three-quarters of a ton. All the famous billfish and tuna are represented, just as are the major bass, catfish, and trout. For the angler, ichthyologist, marine scientist, or budding sportsman, this is the book for them.
Published by Greenwich Workshop Press, 2008, hardbound, 216 pages, fully illustrated.
About the authors:
Flick Ford studied art for 10 years and then dove into New York City indie film, publishing, illustration, and music. He has been painting fish since the early 1990s. Concern about the effects of pollution, over-development, and acid rain in the Northeast inspired him to keep a record of all the fish he caught. Flick's first book , FISH: 77 Great Fish of North America was published to critical acclaim in 2006. His detailed watecolor portraits of fish are widely exhibited and sought by collectors. Today he lives on the Hudson River outside Albany, New York, where he ties his own flies and fishes more than 100 days per year.
Mike Rivkin is a retired catalogue publisher widely recognzied for his spirited and successful copywriting. He is also an avid and experienced offshore angler, past president of the venerable Tuna Club of Santa Catalina Island, and a past IGFA International Representative. Mike has written extensively on the history of angling, including widely acclaimed books on the history of the IGFA, angling before and during WWII, and the West Palm Beach Fishing Club. On the water, he has caught every type of marlin that swims, including a 1,226 lb black marlin taken off Australia in 1984. Today Mike lives in La Jolla, California with his wife and children and plies the Pacific waters nearby.