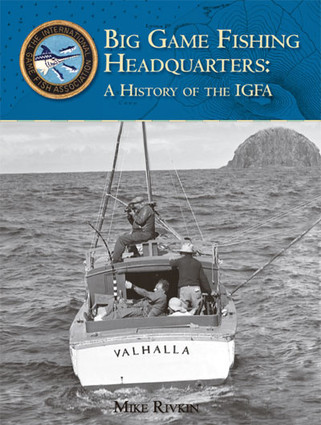 « Back to listing
Plus shipping and CA sales tax (8.75%) if applicable
This is the story of the legendary International Game Fish Association, one of the most remarkable tales in all of sport. Founded on the eve of war in 1939, the IGFA provided critical assistance to the Allied war effort and went on to redefine angling with rod and reel. Today its rules and records are recognized by all of sport fishing and its commitment to sporting ethics has been embraced by anglers around the world. Sorry - sold out.
Big-Game Fishing Headquarters: A History of the IGFA is the compelling history of the evolution of the IGFA, the flowering of big-game fishing, and the people, places, and fish that played major roles in both. Deluxe first edition published in 2005 by IGFA Press, hard-bound, 239 pages, fully illustrated with more than 200 never-before-seen images of offshore angling's earliest days. Author's inscription available on request. Last few!
About the author:
Mike Rivkin is a retired catalogue publisher widely recognized over the years for his spirited and successful copywriting. He is also a veteran offshore angler, past president of the venerable Tuna Club of Santa Catalina Island, and a past IGFA International Representative. Rivkin lives in La Jolla, California with his wife and three children and continues to ply the Pacific waters nearby.